Post by schwung on Apr 3, 2008 16:37:48 GMT -5
**WARNING - GRAPHIC PHOTOS BELOW**
Last week, I got a call from a woman who was referred to us by Sno County AC. This woman had taken a horse from her neighbor 4 days earlier, as the horse was living in mud up to his knees and not getting fed, so she talked her neighbor into giving the horse to her. Unfortunately, she was not really set up to house a horse and had built him a small pen out of two strands of loose barbed wire to contain him. He got out of the enclosure and out on to the busy road she lives on, which is how AC got involved. They told her she could not keep the horse there and gave her my number. After talking to her I felt like we should see if we could take the horse, and I told her I would see if I could find a place for him but that it may take a while given he was a stud, and for the meantime she should take him back to the neighbors where at least he could be contained and not get on the road, and the deal was she would continue to feed and water him there. I was able to find a place for him to go, and I was working on arranging transportation, when the lady called me back and told me that the horse had been injured back at the neighbor's house, the guy was furious and wanted the horse out of there. She described the injury as "his hoof is falling off".
It sounded very bad so I called Julie, who is fostering Cedar and Hope for us, to see if she could make room for him, and she said she could. On Tuesday afternoon Valerie and I went and picked him up. We took him to Julie's and Hannah was there within the hour. The injury is very bad - the worst fetlock injury Hannah has ever seen. It is obviously a barbed wire injury (and will be an excellent educational study as to why barbed wire is BAD!), and wraps about halfway around his hoof, from his frog, through his heel bulb, and around the outside of the hoof to the front of the hoof. It is about an inch wide and at least two inches deep. Hannah sedated him and blocked him and then was able to clean it out and probe the wound. At this time she does not think any tendons were severed, and while it is very close to both the navicular and coffin bone she did not see any joint fluid and hopefully they are not involved as well.
We discussed options, of which there are:
1) euthanasia
2) take him to Pilchuck to live in sterile environment, with surgical debridement and intensive care, which would cost well into the thousands
3) attempt to care for the wound ourselves, with Hannah offering reduced fees.
She felt option 2 was probably not a wise use of our funds but that option 3 was worth trying, at least for the first week, which would give us a chance to get the infection under control and see if he could bear weight on it. It will require some pretty intensive wound care but the biggest expenses will be bandaging materials. She cannot however, say for sure that the wound will heal or that if it does, if he will be able to be ridden. However, I felt he at least deserved that first week of care and then we can decide after that, so we went ahead and cleaned it out, bandaged him up, and started him on antibiotics. For the first week Hannah will be stopping by every 2-3 days to change the bandage as he will have to be sedated for it.
The colt will be two years old in a month, is black with a star, and is registered Half-Saddlebred (yes, there is such a registry). The other half is unknown. He is papered and I have the papers (and no, he isn't one of Jean Elledge's horses). He is small, maybe 14h tops, but cute. Doesn't look at all Saddlebred, but he is very thin and covered in mud from head to toe so it is really hard to say what he looks like. He looks more like a yearling than a 2 year old. His name is Rhythm Three of a Kind and he goes by Rhythm.
Anyway, here are some photos.
What we saw when we arrived to pick the horse up (note, that is I-5 behind him!):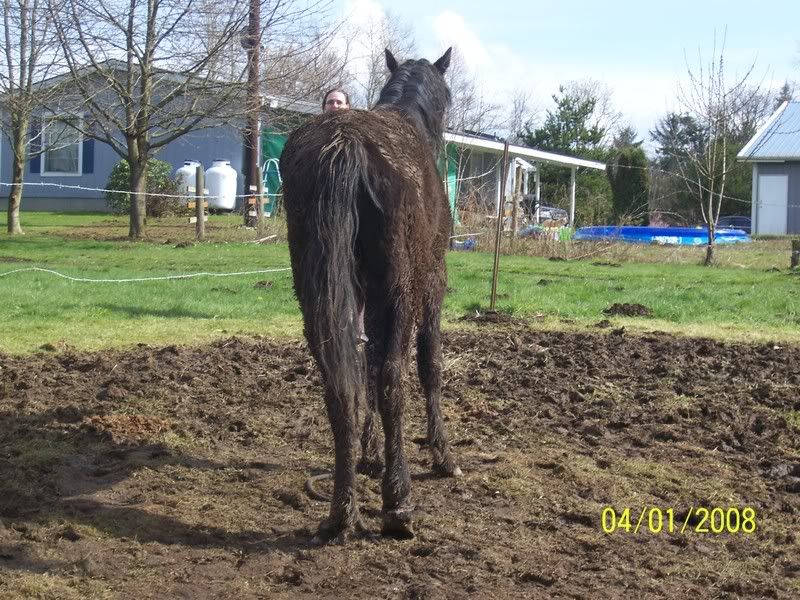 The wound: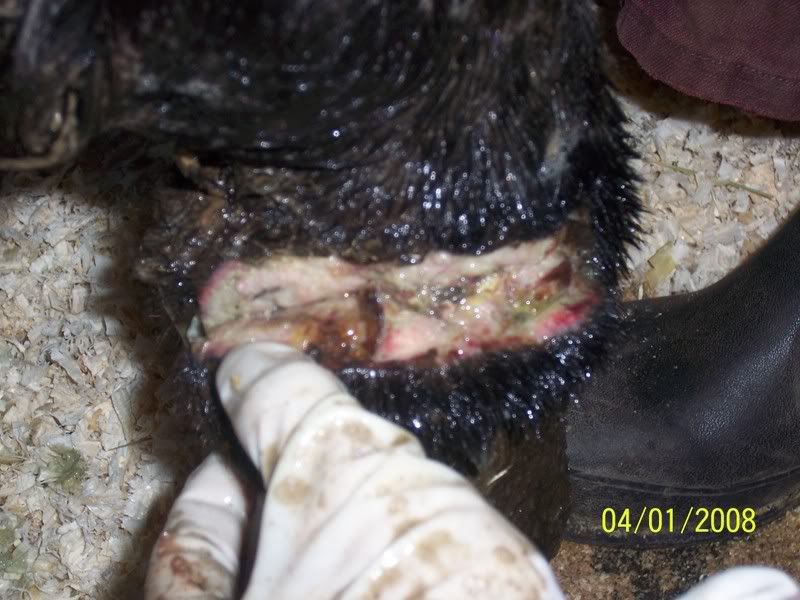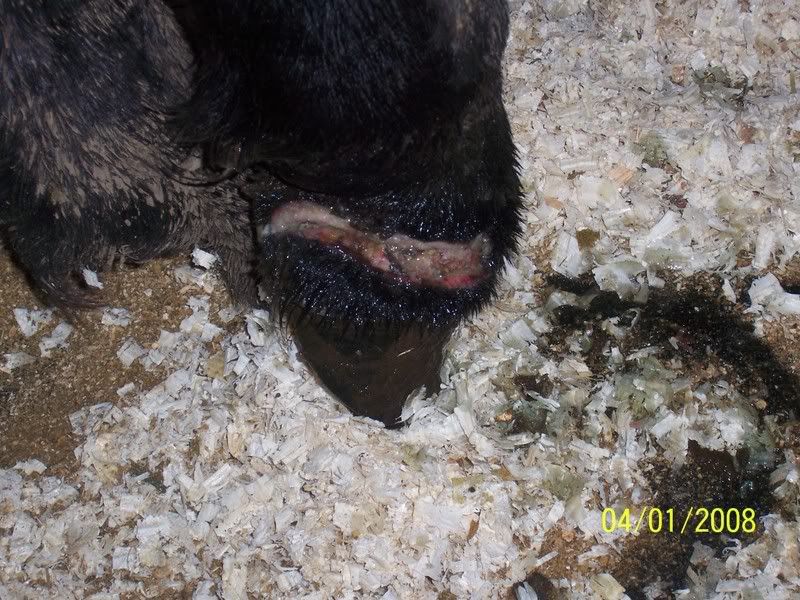 After being cleaned up:
Hannah showing how deep the wound is: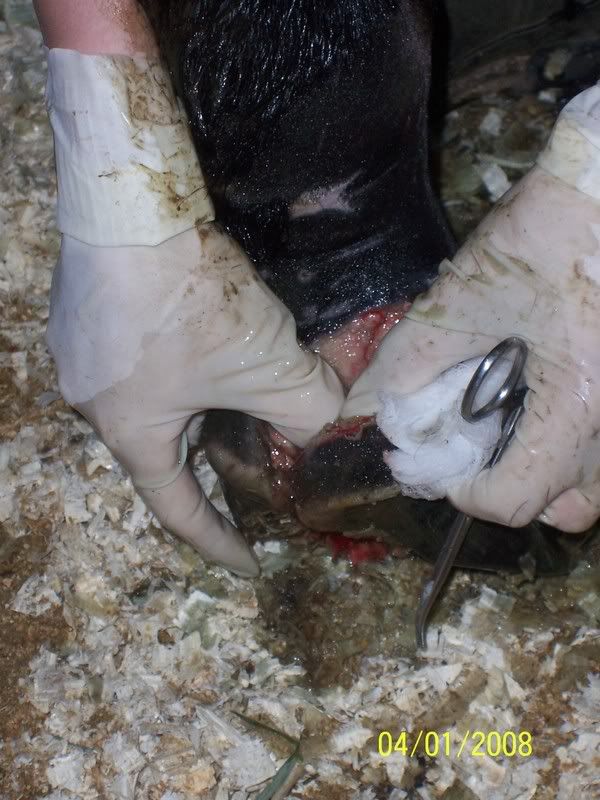 All bandaged up:
At this point we cannot say at all whether or not we will be able to salvage this horse. I can say that by yesterday he looked pretty good, was bright and interested in people, and was bearing some weight on the leg. As I mentioned, we will give it a week or so and reassess, once the infection has cleared up.
If anyone would like to help, our biggest need for Rhythm is bandaging materials and donations to offset the vet and feed costs. This was an owner-surrender situation, so there is no county involvement to help with his expenses.
Here is a list of needed supplies:
2" Elastikon
3" Vetrap
Cotton Padding
Kerlix AMD Pads
Please think good, healing thoughts for Rhythm! He is a cute boy that definately deserves at least a chance at a better life.