Post by honeyfish on Oct 9, 2007 2:59:58 GMT -5
An acquaintance of ours was to be at the Eugene Livestock Auction July 14th for the tack and catalog horse sale. I hadn't ever been, for good reason. I knew all to well what happens to unwanted horses and always avoided any information about sales, afraid I would end up going. Well, I did end up going. For the tack.
It was overwhelming. The auctioneers spoke so fast it was hard for me to follow what was even happening. I saw a Wintec dressage saddle that looked pretty nice. We're in cowboy country down here. It was pretty out of place.
Somewhere in the middle of the tack sale, our heads ringing, Keelan and I wandered back (WAY against my better judgement) to "just have a look at the horses" and "see if there was anything worth staying for". It was obvious most of the cataloged horses weren't in any danger. Past the catalogs there were a few with nasty injuries and many old and neglected, mostly quarter horses and mixed breeds (no small number of them paints). At the very back of the auction yard, in the sun, a horse I rather liked caught my eye. We went up to the pen and had a look. Keelan took an immediate liking to the horse. My first thought (after "no water?") was "young". Not overly feminine, I thought the horse was a gelding. Obviously well cared for with impeccable coat and lots of show sheen.
We left the yard as the horses were beginning to go through the ring.
First, the cataloged horses. I think the best one, a quarter horse mare, went for $3200. I quickly picked out the kill buyer, who stood in the ring behind a metal guard. I wished poisonous thoughts at him although he was taking no interest in any of these horses.
After a while we went back to look at the young horse again. I twisted around and determined it was a filly. We went back and watched more of the horses. The catalog ended and the poorer horses started coming through. The kill buyer bid almost imperceptibly. I actually don't think he got any horses that day, but then again, it was hard to tell.
We stayed and stayed without even knowing why--or perhaps to ignore why by not saying why. I wanted to see the filly go through the ring. I sent Keelan out in search of her owners. He found them, a group of teenage sisters, fauning over her. Keelan didn't recognize the big filly at first with the girl sitting on her in the isle. The girl said, "Get out of the way, Fancy. He isn't coming to look at you." Keelan got to the empty stall at the end and turned around.
The girl smiled. "Oh, I guess he does want to look at you."
They told him they had bred and raised her to be a barrel racer, but then she kept growing and growing and her docile nature made it apparent fast sports would never be in her future. (Not to mention her crooked front legs. And the height--was it a mystery? I find it hard to believe that both her parents were short little things).
K came back with the story and we stayed and stayed. Finally at nearly 9:30 her turn was up. They RODE her through the ring. Chestnut filly, no papers. Full Quarter, momma registered, papers lost. Sixty days training. Do we hear $500?
Well, he didn't, and the bidding started at $75.
We were frantic. We didn't even have a number; the person we knew there gave us hers. Should I bid? I remembered the nice Wintec that went for $35 before I could even place a bid.
I raised our borrowed number high and placed our first and last bid for $235.
All at once, the hammer fell, and we wondered what kind of trouble we had gotten into.
We didn't even have a way to get her home.
We didn't even have a halter for her.
Then everything just fell into place. The person we knew there also knew some other people who had bought three horses at the sale. They had a big stock trailer and offered to take the filly to their place for the night and deliver her to the barn the next morning. We spoke briefly to her previous owners. They told us we had gotten a darn good deal. The blond girl, perhaps a year older than me, with one arm and brave eyes said to the two of us: "Take good care of her. She was my baby."
Somehow it came up that we didn't have a halter even, and the girl ran to their truck and produced a hand-knotted halter with a lead attached--"My grandfather makes them. Oh, it'll fit her."
There was no time for me to even worry. I went to get her, not even knowing where I was going. She led calmly--Boy, is she tall!--I couldn't tell in the ring--and like an angel through the maze of rusty stalls. I handed over the pink slip and she was ours.
We pointed her at the trailer and she loaded herself right in.
Anyway, she settled into stabled life in a couple of weeks. It took her a while to get used to the stall. She's so goofy and good-natured though that she just takes everything in stride.
Here are some pictures from her first day in her new home: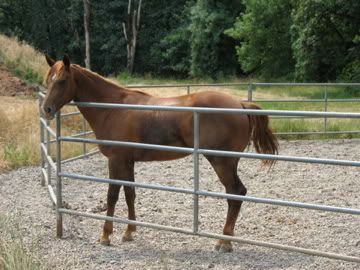 This is her "model" shot: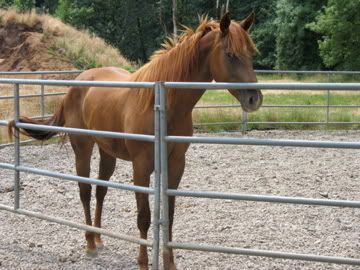 She needed a name. Ever the car guy, Keelan named her Chevelle. I thought it was brilliant since I stink at coming up with names.
She was pretty porky then, with no muscle tone. The girls had obviously done a lot of work with her but her ground manners needed quite a bit more schooling. Two weeks later I had the vet out to give her a full exam and all her vaccines, since I had forgotten to ask the owners anything practical.
He put her at not quite 2 1/2.
WHAT? I thought she was 3!
Well, that put a fast halt on any saddle training I had been thinking up. So, she's mostly a pasture potato for now. We are working on ground training and she is a very fast learner. She's that rare kind of horse that does the best when exposed to something, then backed off, then exposed again after some thinking time. Sometimes, the longer the time, the better. She picks up right were we left off. She's smart, but very goofy. And very sweet. It's a shame about those very back at the knee knees.
Some photos I took of her on the day she was introduced to the herd all together--namely, Ben and The Boss. I turned Magpie and Chevelle out together quite a few times before I introduced Ben to the picture. You can see how obtrusive "little" Chevelle is:
Her muscles are starting to come out a little more, but it appears she is also still growing rapidly. She's lost the porky, fed-up-baby look that was making me a little nervous given her precarious joints.
And here are some conformation shots we took a couple weeks ago. Some are better than others...and she has gained weight since these were taken. Her knees are wide open jelly and the vet asked me if she was crossed with something. Warmblood, maybe? I said Doubtful. Look how clumsy she is.
I need to sticky her to be sure, but she's definately 16 hands in the rear end see-saw right now. For comparison, Keelan is 6'2".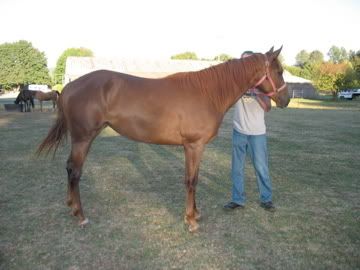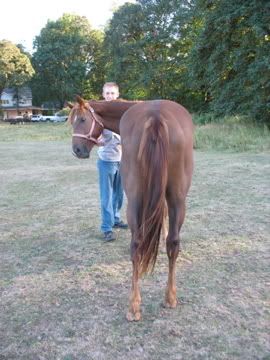 Here you can see the very poorly set on front legs (although she isn't stood up very well at all for this picture...and it is an EXTREMELY unflattering camera angle...it makes her hammerhead look HUUUGE
):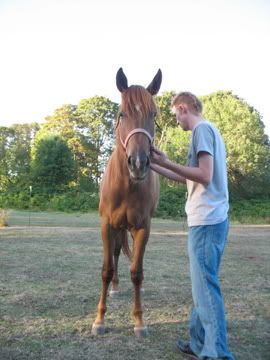 And some taken that same time, after ground training and lunging fifteen minutes a day four times a week: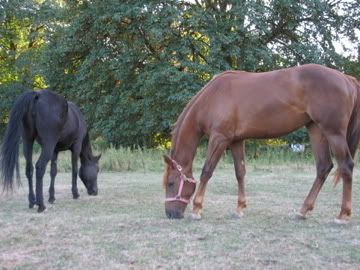 Thinner, but with far better muscle tone: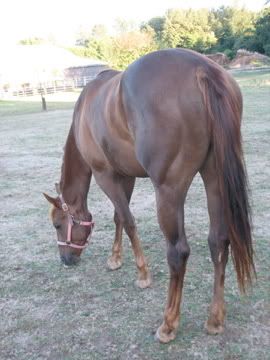 And it's very hard to take digital photos in a very dark arena, but I swear she is trotting as gracefully as she's able in this photo: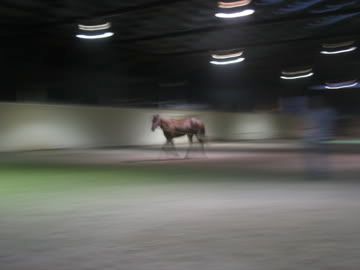 We are taking things very slow with this one. Her legs concern me but the vet seems fairly confident they may straighten some degree when her knees begin to close. Either way, she'll have no stressful life with us. I'm in no rush to train her--I've got two perfectly sound, fun horses to ride already--despite what everyone at the barn has been telling us to do.
I'm sorry, I'm just not into child labor or teen pregnancy.
This is one gal who's front legs are out of the breeding circle for good. ;D
I'm excited to see how she comes along. Already she baths, clips (not owing to me...her previous owners taught her...even her nose and bridle path!), brushes, picks up all her feet, lunges slowly either direction (although I constantly worry about the wear and tear on her joints, I've heard the percussion is good for them), and is learning all about yielding to pressure.
She's a kick.
It should be fun to see how she matures, the big goof.